What can our technology do for you?
In order to provide you with the highest level of care possible, our doctors actively seeks new technology and spends extensive time researching what will benefit you the most.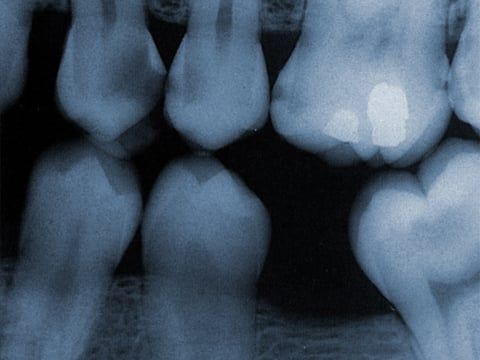 Digital X-Rays
We use digital x-rays to reduce the amount of radiation you get every time we take an x-ray. We only take x-rays of locations that are indicated and attempt to keep the number of x-rays to a minimum, while still allowing for proper diagnosis.
X-rays play an invaluable role in the diagnosis of dental problems, as well as provide a clear picture for a dentist to accurately diagnose and provide the necessary treatment.
We place a small sensor in your mouth. The sensor is connected to a computer by a thin wire. Next, an x-ray beam is sent through your teeth and into the sensor, which records the image of your teeth and sends it to the computer. The sensor can then be repositioned to image other sections of your teeth.
The digital dental x-ray system is more sensitive than dental x-ray film systems, so your exposure to x-rays is cut by as much as 90 percent. The large and color-enhanced images let you see what your dentist sees, so it's easier for you to understand how your dentist will treat your teeth. Your dental checkups take less time, and it's fun to watch this system work! Most patients are amazed.
Cone Beam Computed Tomography
To keep your radiation dose to a minimum, our staff uses a Cone Beam Computerized Tomography (CBCT) machine that has one of the lowest radiation doses in the industry. Although not every person needs a CT scan, when it is necessary to take one, you can rest assured you are receiving the lowest dose possible. At the same time the images have extremely high resolution and allow our dentists to properly diagnose your oral condition.
Some of the most common procedures in which the CBCT is used are:
Impacted teeth
Locating oral pain
Evaluating jaws, nerves, nasal cavity, and sinuses
Reconstructive surgery
Implant placement
Diagnosing TMJ
3-Dimensional Planning
Have you ever had an impression that felt like a bunch of cake batter in your mouth? Many people have a high gag reflex that makes it challenging and uncomfortable to have a dental impression made. Even if you don't have a high gag reflex, most people do not like having impressions done. Not in our office! In most cases, we are able to use a digital scanner that scans your teeth and places a "virtual model" on our computer. This 3-Dimensional image can be printed on a 3-D printer, or the image file sent to your restorative dentist. This eliminates the need for "cake batter" type impressions.
Piezo Surgery
Several techniques exist to harvest bone from your jaw bone or to access the sinus for a lateral window sinus lift. Piezo surgery technology is used in several types of dental and medical applications. The technology emerged as a way for spine surgeons to cut bone without damaging nerves. The Piezo surgery technology allows hard tissues to be cut without damaging tissue or nerves. Studies have shown that bone cut with traditional burs can cause burning of the bone. With the Piezo surgery technology studies show less damage to the bone. This technology allows us to provide you with a safe, predictable, and gentle surgery.